Consultation and continuing education for clergy are areas of my expertise.  Seminary simply cannot teach pastors everything they need to know as they head into ministry.  Consider these questions:
How do you as pastor know when you have an emergency on your hands? What might a pastoral response to crisis look like?  (Assessing for immediate risk of harm to self or others, and responding to crises)
How do you tell the difference between pastoral care issues and other clinically significant issues requiring attention from a psychologist or psychiatrist? (Knowing when/how to refer parishioners to appropriate levels of care)
What do you do when you come to suspect a child might be being abused or neglected?  (Recognize danger signs and know how to make a child abuse report)
What are some useful elements of a plan to help keep your children safe?  (Discussion of layers in child safety policies)
How do you maintain appropriate boundaries in your ministry, including in situations of pastoral care and counseling?
How do you handle working with boundary-pushing parishioners?
How might you embody a healthy, personal sexual ethic?
What might constitute clergy misconduct?
Sometimes ministry feels overwhelming and isolating.  How do you take care of yourself (and your family) to prevent clergy burn-out?
All of these issues (and more) are reviewed and explored in my day-long continued education seminars for clergy.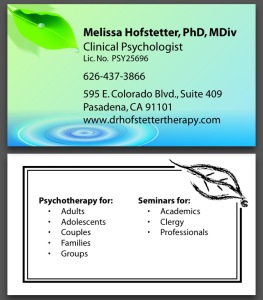 Encouraging, empowering, educating, and equipping clergy to do ministry gives me a great sense of fulfillment.  I've served as a national speaker and consultant to clergy and denominational bodies for the past five years, working with pastors and church leaders from Arizona, California, Delaware, Indiana, Maryland, Nebraska, Nevada, New Mexico, Pennsylvania, and West Virginia on matters of pastoral ethics, self-care, and boundary maintenance.
Specifically, I have offered day-long seminars to hundreds of pastors across the country on subject matters such as Embodiment of Sexual Ethics, Clergy Self-Care, Mental Health and the Church, Ethics of Pastoral Care & Counseling, Boundary Maintenance, Power Dynamics/Differentials, Child Safety, and Clergy Mandatory Reporting of Suspected Abuse/Neglect.   
My unique perspective, shaped by training in both theology and psychology, has been instructive and useful to many in ministry.  In fact, after learning of my seminars in leadership development, the United Methodist Church in the Desert Southwest Annual Conference required all of its clergy to attend my workshops, as did the Pacific Southwest Mennonite Conference of the Mennonite Church USA.  It is deeply fulfilling for me to have far-reaching participation in the lives and work of pastors whom I respect so much.  Please contact me if my seminars might be useful to your congregation or clergy.  Fees are set as general guidelines, and can be negotiable based upon specific requirements and needs of all parties.